Your Search For The Best Roofers Near Me Is Over!
Roofing is an important part of your home's exterior. It protects you from the elements and increases the value of your property. However, as time goes by, your roof can become dirty and discolored due to rain, wind, and sun exposure. Damaged shingles make your home susceptible to water intrusion and all sorts of other problems. At Maine Metal Roofing, we strive to provide the quality roofing services that our customers need. Whether you need a new construction roof or a replacement, our team will be there to help.
We offer several different shingle styles so that we can match the existing design or go with something completely different if desired. When you call our roofing company, we will work closely with you to find the roofing material that fits within your design and budget. Let us know what style works best for you. When you need a reliable roofing contractor in Unity, Maine, don't hesitate to give us a call!
Asphalt Roofing 
An asphalt shingle roof is a popular and common choice among homeowners because asphalt shingles are easy to install, affordable, and available in a wide range of colors and designs. At Maine Metal Roofing, we offer a wide variety of asphalt shingle roofing systems that are perfect for any home. Our shingles are made from high-quality materials and installed by professional contractors with decades of experience.
If you are planning a home improvement project, a quality roof should be at the top of your list. The best way to protect your home is to ensure you have a properly installed, reliable roofing system. Storm damage, pests, and lack of maintenance can lead to water intrusion and cause structural damage to your home. When you need a residential roofing contractor, we're here to help! We use the latest technologies and superior products available on the market, so you can be sure that your roof will be in good hands.
Benefits of Shake Roofing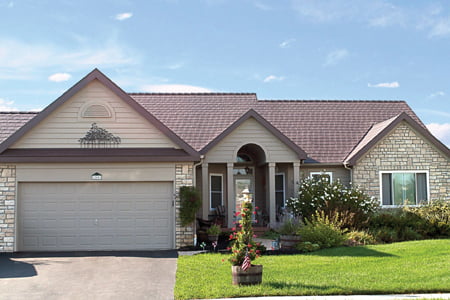 Replacing your roof is a big decision that requires a lot of research and planning. You want to make sure you choose the right material that will last for years. There are a lot of roofing products to choose from when it comes time to replace your roof, but not all of them are created equal. Shake roofing is a popular choice because it is long-lasting and provides a beautiful aesthetic to any home.
Maine Metal Roofing offers attractive options that look amazing on any home. We offer numerous styles with varying colors and textures so that you can find something unique yet still traditional enough to fit into your neighborhood's style guidelines. The best part? It won't cost more than other types of roofs! Our durable materials mean we don't need to charge more for our products just because they're different from what most people would choose. Instead, we focus on providing high-quality products at affordable prices without skimping on the details or craftsmanship.
Our shake roofing will not only provide your home with an enhanced appearance, but you'll also have the peace of mind that your home is protected with high-quality, durable materials installed by a professional team with experience in roofing installation.
Looking For A Reputable Roofing Contractors Near Me? Give Us A Call!
A damaged roof can lead to various problems for your home, including water damage, mold growth, and even structural damage. If you are in need of residential roofing services in Unity, Maine, our team is here to help. New roof replacements are our specialty, and we are happy to work with you to find the most cost-effective solution that meets your needs and budget.
Maine Metal Roofing's customer service is second-to-none. We offer high-quality metal, shake, and tile roofs at an affordable price that won't break your budget or compromise on style or durability. We are happy to provide you with a roofing estimate and have financing options available! Contact us today to learn more about our products and services!